Written by Brianna Connock, Marketing & Outreach Associate
What questions would you ask a Holocaust survivor? You can ask Pinchas Gutter all about his inspiring story of resilience and survival beginning on November 6.
What is Dimensions in Testimony?
The Nancy & David Wolf Holocaust & Humanity Center is one of ten museums in the world to feature this type of cutting-edge exhibit. An initiative of the USC Shoah Foundation, founded by Steven Spielberg, and sponsored by the Harold C. Schott Foundation, Dimensions in Testimony is designed to preserve dialogue between Holocaust survivors and learners far into the future.
Using specialized recording and display technologies and next-generation natural language processing, Dimensions in Testimony allows visitors to ask two-dimensional displays of Holocaust survivors questions and receive responses in real time – giving visitors the rare chance to engage in one-on-one conversations with survivors.
As we become more reliant on future generations to tell the stories of Holocaust survivors, Dimensions in Testimony will allow us to continue to hear stories from and ask questions to the survivors themselves.
Meet Pinchas Gutter
Pinchas, the first survivor to be featured as an interactive biography through this initiative, will be featured in our museum beginning November 6, 2023.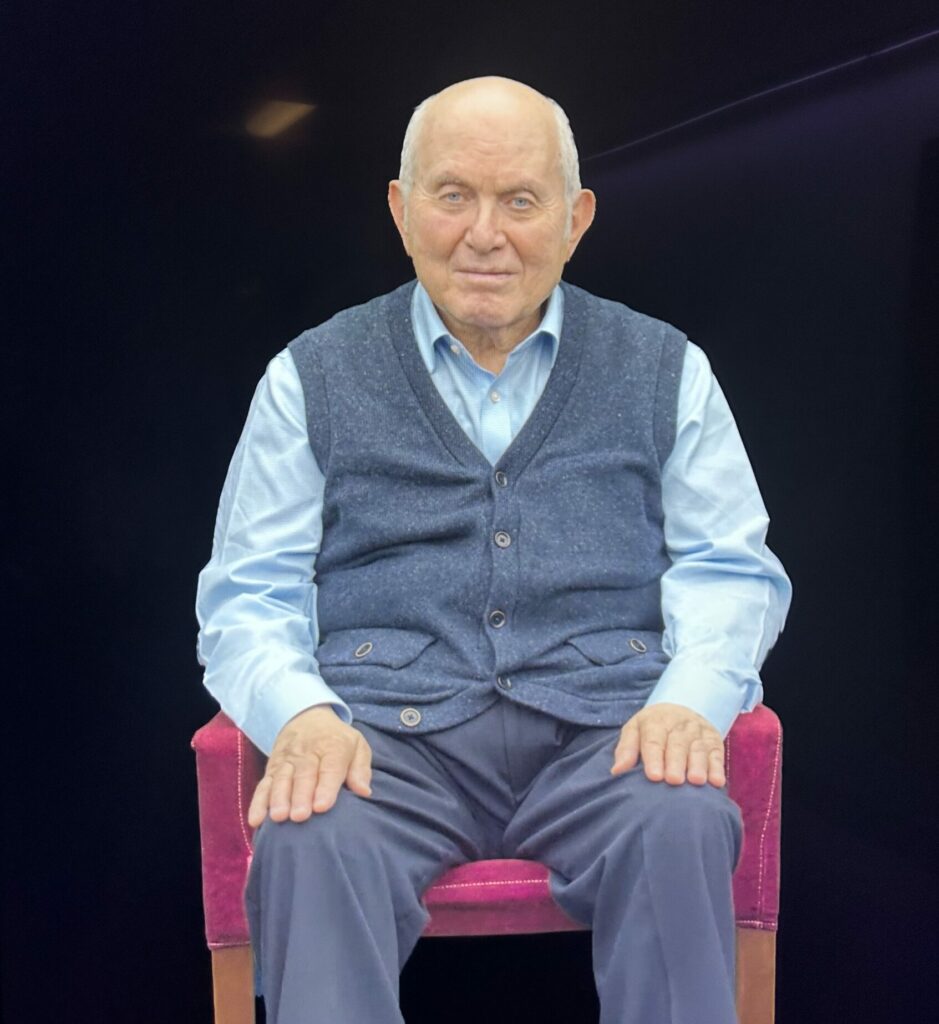 Pinchas Gutter was born in Lodz, Poland in 1932. Pinchas was born into a Hasidic family that could trace their roots back 400 years in Poland. His father and grandfather owned one of the largest wineries in the country. Prior to the war, Pinchas' parents wanted to leave for Palestine (Israel), but Pinchas' grandfather did not want them to leave. In 1939, Pinchas, along with his twin sister and entire family, fled to Warsaw, where they were confined in the Warsaw Ghetto. Pinchas' father created a hiding place for them to escape from the deportations. During the Warsaw Ghetto Uprising, they were captured and deported to Majdanek.
When the family arrived at the camp, Pinchas' mother and sister were sent in a different direction than Pinchas and his father. He was soon separated from his father as well. He never saw any of them again. Pinchas was in a total of six camps and was finally liberated from Theresienstadt by the Soviet army on May 8, 1945. After the war, Pinchas was taken to an orphanage in England. He stayed in England for three years before moving to multiple other countries. In 1985, Pinchas immigrated to Canada with his wife and children.
As the first Holocaust survivor to share his story in this way, Pinchas paved the way for other survivors to share their stories in a way that will be told to future generations for years to come.
Questions to ask Pinchas
Are you ready to learn more from Pinchas? You can ask him anything you'd like, but here are some questions to get you started:
What was your life like before the war?
What do you remember about your sister?
What was life like in Warsaw Ghetto?
What happened to your family?
Where did you go after the war?
Plan your visit
Visit the Nancy & David Wolf Holocaust & Humanity Center today to experience history in a new way by interacting with Pinchas. For information on our museum hours, ticketing, and more, visit our information page.
# # #
ABOUT THE NANCY & DAVID WOLF HOLOCAUST & HUMANITY CENTER
The Nancy & David Wolf Holocaust & Humanity Center exists to ensure the lessons of the Holocaust inspire action today. Located at Cincinnati's historic Union Terminal, HHC impacts more than 2.5 million people every year through digital and in-person events, museum tours, educational experiences, social media, and virtual content. From Australia to India, individuals from more than 25 countries and 30 states engage with our mission. For more information, visit www.holocaustandhumanity.org.