Written by Brianna Connock, Marketing & Outreach Associate
Cincinnati's community of upstanders took Union Terminal by storm in celebration of the 2023 Cohen Family Upstander Weekend on June 10-11, 2023.
With blue skies and electric energy, more than 500 runners and walkers of all ages took off from the starting line at 8:30 a.m. outside of historic Union Terminal. There were many first-time runners excited to take on the challenge, avid runners looking to get a personal best, and families and friends eager to take a scenic walk around the West End.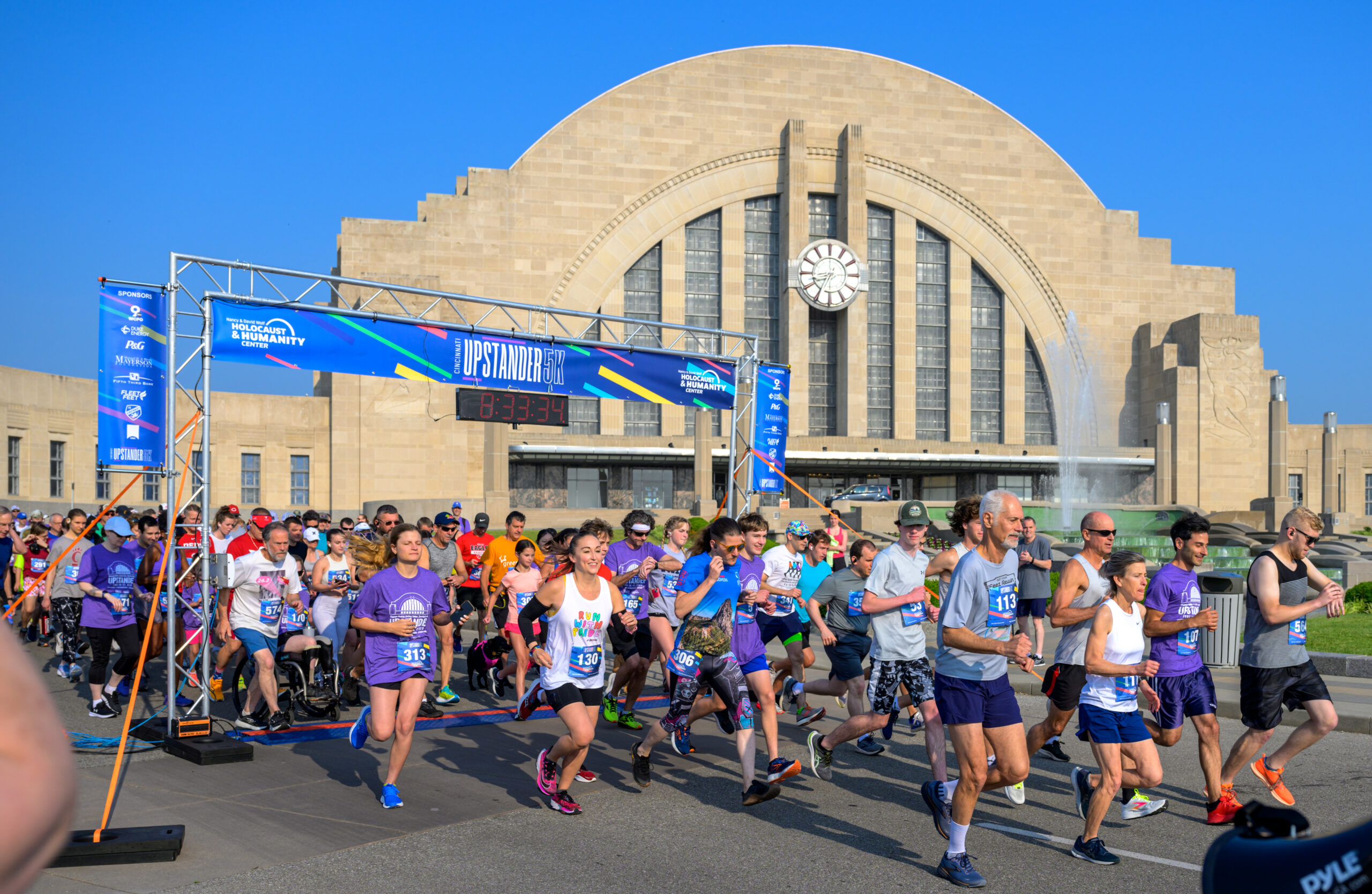 The finish line was full of smiles, hugs, and celebration. Cheers rang out for the ream from Luke5Adventures as they crossed the finish line with their sherpa-like device they use to help kids with disabilities get outside and connect with nature.
The top three men's and women's finishers were awarded plaques engraved with the iconic building's façade. The winners were:
Bennett Turan
Dom Ellis
Will Griffth
Kayla Hess
Karen DeWine
Michele Berry-Godsey
Pickleball games, courtesy of Nettie Pickleball, were picked up as more friends and family finished the race and their breakfasts, and soon we were heading inside for the Volunteer Expo in the Rotunda and throughout Cincinnati Museum Center (CMC).
Our nonprofit and mission-driven community partners could be found throughout CMC providing information about their organizations and volunteer opportunities while hosting engaging activities. We had more than 40 partners in attendance, ready to share how they do their work as upstanders.
The Children's Theatre of Cincinnati presented Nobody Nose (The Trouble I've Seen), an excerpt from "The Bully Plays" in Corbett Theatre for children and their families, and Evin Blomberg had the Rotunda in a standstill with her acoustic performances at the Soli Music Society booth.
"The expo was a true demonstration of Greater Cincinnati as a community of upstanders," Jake Campbell, Upstander Engagement Manager at the Nancy & David Wolf Holocaust & Humanity Center, said. "It was a day that brought inspiration, education, community, and action together and really showed the region is a representation of the best of humanity today."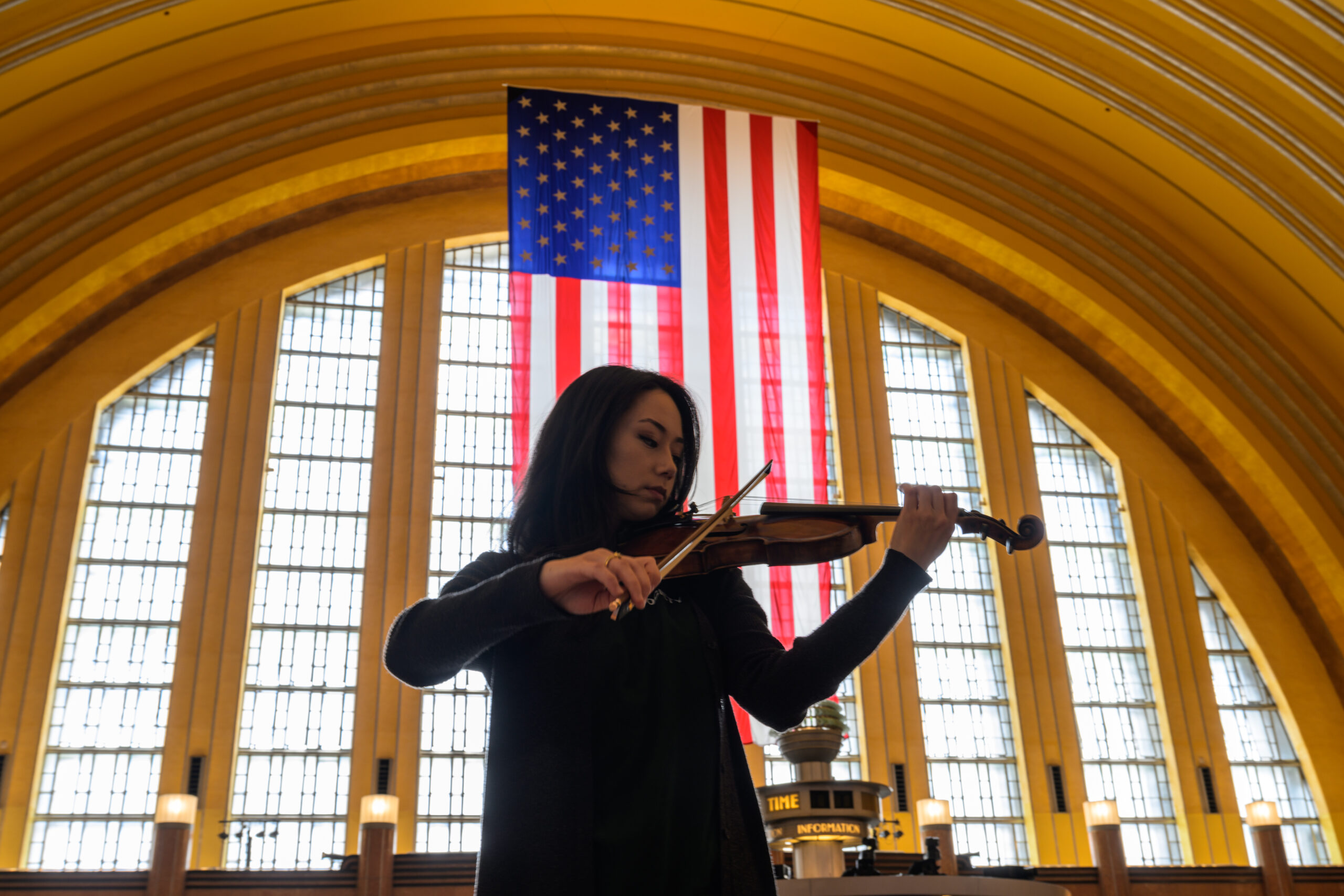 Down on the Mezzanine level, the Human Library was brought to us by the Cincinnati and Hamilton County Public Library. Attendees were able to check out one of their living "books" to have an honest and engaging conversation to break down stereotypes and misconceptions. The Hearing Speech + Deaf Center held free hearing screenings for anyone interested in putting their ears to the test.
As the first day of the Cohen Family Upstander Weekend came to a close, the feeling in the air was one of hope and excitement for the next day to come. Today's upstanders came together in the very building where Holocaust survivors took their first steps to rebuild their lives in Cincinnati in the name of uplifting the changemakers, action takers and justice seekers.
Now, what will you stand for?
# # #
ABOUT THE NANCY & DAVID WOLF HOLOCAUST & HUMANITY CENTER
The Nancy & David Wolf Holocaust & Humanity Center exists to ensure the lessons of the Holocaust inspire action today. Located at Cincinnati's historic Union Terminal, HHC impacts more than 2.5 million people every year through digital and in-person events, museum tours, educational experiences, social media, and virtual content. From Australia to India, individuals from more than 25 countries and 30 states engage with our mission. For more information, visit www.holocaustandhumanity.org.