Written by Brianna Connock, Marketing & Outreach Associate
The mission of the Nancy & David Wolf Holocaust & Humanity Center is to ensure the lessons of the Holocaust inspire action today. The staff at the Center work every day to help advance this mission.
Director of Education Lauren Karas is working to provide programming and resources to students and educators that will teach the history of the Holocaust and instill tolerance, empathy, and critical thinking skills within them.
Q: Tell me about your role and what a typical day might look like for you. 
A: I feel lucky that every day is different, but a typical day might include showing off our award-winning museum to a group of administrators, teachers, or students, collaborating with my colleagues to create and deliver teacher professional development, student tours, and youth programming, or going out to school sites to engage teachers and students in Holocaust and humanity education.
Q: What is your favorite part of the museum?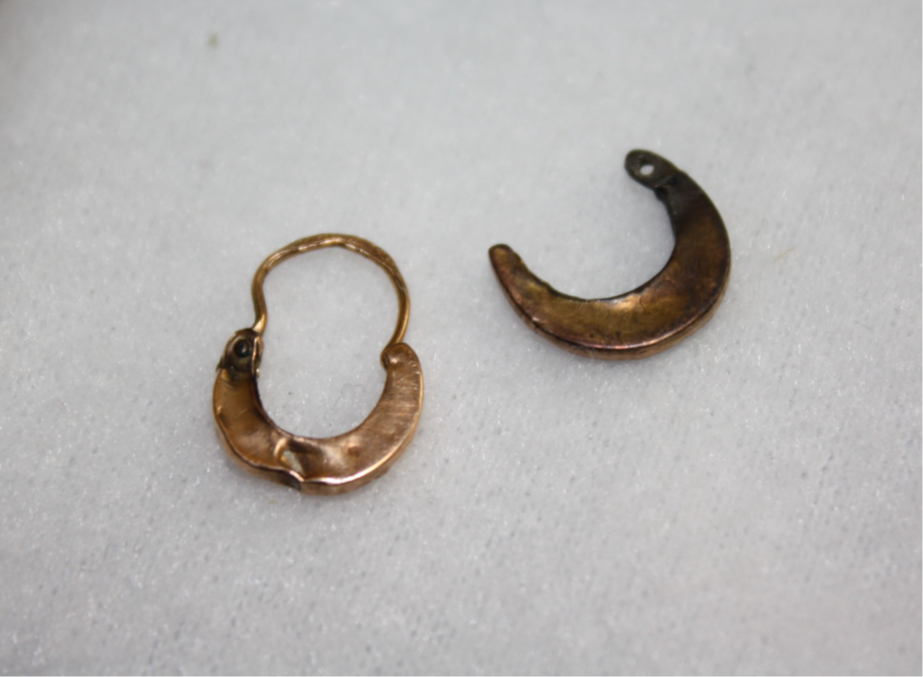 A: My favorite part of the museum is its focus on personalizing, localizing, and humanizing the history. The artifacts, photographs, and testimonies in the museum bring our Cincinnati survivors' incredible stories to life. My favorite artifact is a pair of gold earrings from survivor Fannie Warren. Fannie received the earrings as a gift from her parents and when she was deported to a concentration camp, Fannie took a huge risk – keeping these cherished earrings with her always. She would hide them under her tongue and sometimes between her toes. To me, this is such a beautiful and subtle form of resistance that you don't read about in history textbooks. 
Q: Why do you think the work the Nancy & David Wolf Holocaust & Humanity Center does is important?
A: Engaging with Holocaust history requires people to think critically about the world around them and consider the complexities of human behavior. We know that students who receive high quality Holocaust education are not only better critical thinkers but are also more empathetic and more likely to challenge stereotypes. This history demands each of us to harness our unique strengths to be upstanders in our communities. I hope our work helps people recognize the power they have to make change. 
Q: What about the Nancy & David Wolf Holocaust & Humanity Center makes you excited to get out of bed in the morning?
A: As a former high school social studies teacher, the work we do at the Nancy & David Wolf Holocaust & Humanity Center is very close to my heart. Thinking about the thousands of students who come through our museum each year makes me excited to come work every day.
Q: What is a favorite moment you have of working here?
A: This summer, I got to partner with one of my favorite organizations, Miami University's Ohio Writing Project, to co-teach a class on teaching the Holocaust through literature, primary sources, and storytelling. We had an amazing group of 21 teachers who really poured their hearts and souls into the class. I felt lucky to learn alongside them and left feeling so hopeful about the future of Holocaust education in our region. 
Q: What's something else you wish people knew about you?
I'm very good at ping pong.
Are you an educator or administrator interested in our resources? Visit our education page or connect with Lauren at [email protected].
# # #
ABOUT THE NANCY & DAVID WOLF HOLOCAUST & HUMANITY CENTER
The Nancy & David Wolf Holocaust & Humanity Center exists to ensure the lessons of the Holocaust inspire action today. Located at Cincinnati's historic Union Terminal, HHC impacts more than 2.5 million people every year through digital and in-person events, museum tours, educational experiences, social media, and virtual content. From Australia to India, individuals from more than 25 countries and 30 states engage with our mission. For more information, visit www.holocaustandhumanity.org.