Written by Kara Driscoll, Director of Marketing & Events
Telling stories is at the core of the Nancy & David Wolf Holocaust & Humanity Center's mission. Marketing & Outreach Associate Brianna Connock tells those stories through a digital means in her role.
Q: Tell me about your role and what a typical day might look like for you.
The bulk of my work is with our social media channels and our website. I plan out and schedule all our social media content, write blog posts, create new and monitor current pages on our website, help with the marketing strategy for events, and more. On a typical day, I might make a Tik Tok in the museum, meet with our Communications team about an upcoming event, and write a blog about a new artifact.
Q: What is your favorite part of the museum?
My favorite part of the museum is Leo Wilich's uniform. I remember touring the Nancy & David Wolf Holocaust & Humanity Center when I was around 12 years old – before it moved to its new location in Union Terminal – and Leo's story always stuck with me. After immigrating to Cincinnati, Leo saved his uniform he received at Auschwitz. When he would have a bad day, he would take it out of a box in his closet, put it on, and reflect on how lucky he was to be alive. I am in awe at the strength it would take to be able to do that, and his story reminds me to reflect and practice gratitude in my life.
Q: Why do you think the work the Nancy & David Wolf Holocaust & Humanity Center does is important?
It is up to my generation, and those who come after me, to keep the stories of the Holocaust alive. The work the Nancy & David Wolf Holocaust & Humanity Center does is crucial because these stories need to be kept fresh in our minds so that we never forget. The stories that we share at the Center are local to Cincinnati and tied to the space we are in – Union Terminal – and I think we have a unique opportunity to connect with people on a more intimate level by showcasing these local accounts.
Q: What about the Nancy & David Wolf Holocaust & Humanity Center makes you excited to get out of bed in the morning?
I am so grateful to be able to say I love my job. Knowing that I can share these powerful stories through a powerful channel – social media – makes me excited to get out of bed and come to work.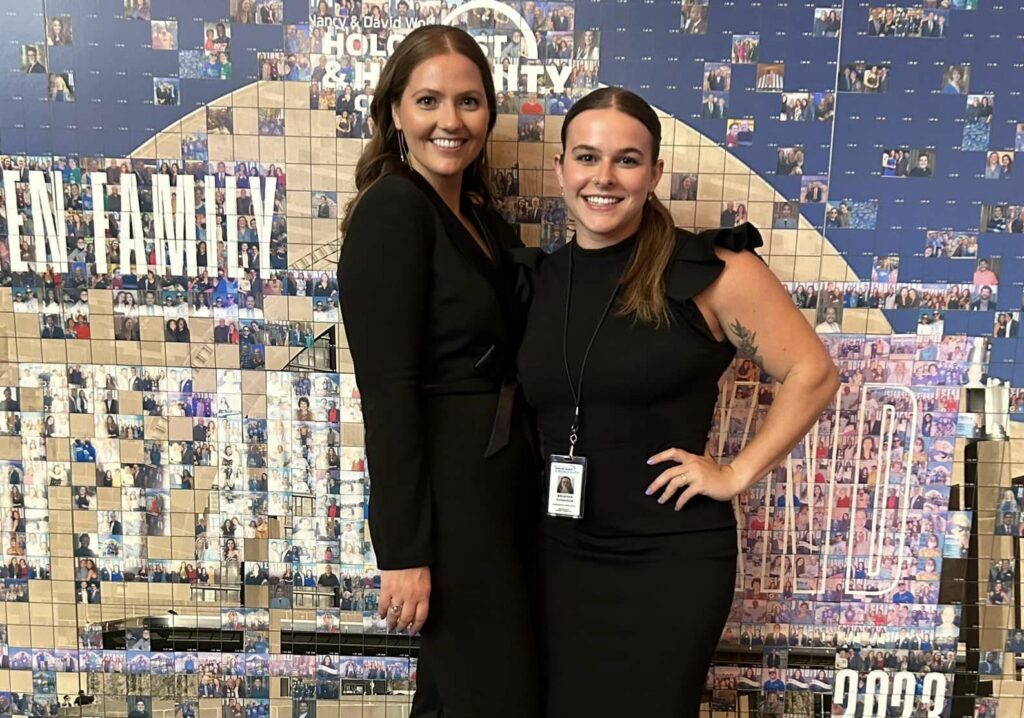 Q: What is a favorite moment you have of working here?
I have been working here for about four months now, and my favorite moment I have so far is having lunch with local Holocaust survivor Zahava Rendler. Meeting her, and other survivors, has been an amazing experience. I also got to experience the 2023 Cohen Family Upstander Weekend at the end of my first month in this role, and I'm thankful I was able to be a part of it all. I'm eager to continue to create new favorite moments.
Q: What's something else you wish people knew about you?
My background is in journalism, and I have always been obsessed with writing and sharing stories. I was on a competitive writing team when I was younger, and since then I have always found writing to be my passion. I freelance for Cincinnati Magazine and some other local publications in my spare time. You can also find me as a CF-L1 Trainer at local gym CrossFit SOTO after work.
Want to connect with Brianna? Reach out to her at [email protected]
# # #
ABOUT THE NANCY & DAVID WOLF HOLOCAUST & HUMANITY CENTER
The Nancy & David Wolf Holocaust & Humanity Center exists to ensure the lessons of the Holocaust inspire action today. Located at Cincinnati's historic Union Terminal, HHC impacts more than 2.5 million people every year through digital and in-person events, museum tours, educational experiences, social media, and virtual content. From Australia to India, individuals from more than 25 countries and 30 states engage with our mission. For more information, visit www.holocaustandhumanity.org.