Written by Brianna Connock, Marketing & Outreach Associate
The newest addition to the Nancy & David Wolf Holocaust & Humanity Center – Holocaust survivor David Hochstein's Tallit Katan – is viewable to the public for the very first time. The tallit katan is a smaller prayer shawl typically worn under the shirt, as opposed to the tallit gadol that is typically worn over the shirt.
David Hochstein was a Holocaust survivor from Cologne, Germany. Read David's full story of resilience and strength here.
After Kristallnacht in November 1938, David's father, Samuel, planned to send him to England. David, 15 years old, was able to travel to London on a Kindertransport, arriving in February of 1939. At the time, he didn't know that this would be the last time he'd see his parents. He recalled the last words his father ever said to him: "Never forget that you are a Jew."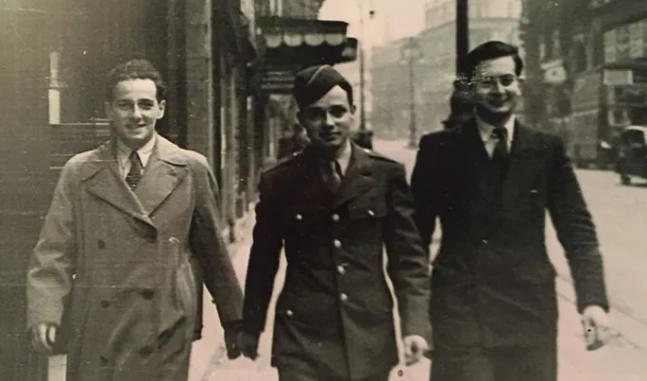 This tallit katan travelled with David on his journey and as he started his new life. Honoring his father's words to him, he wore his tallit katan as he lived in London and worked as an apprentice furrier.
After WWII began, David no longer received mail from his parents. He would later learn that they were murdered in a concentration camp.
David treasured his tallit so much that as he grew older and the fabric began to tear, he hand-stitched it so he could continue to wear it. That stitching can be seen today on the right shoulder of the tallit.
Plan your visit today to view this powerful artifact at the Nancy & David Wolf Holocaust & Humanity Center.
ABOUT THE NANCY & DAVID WOLF HOLOCAUST & HUMANITY CENTER
The Nancy & David Wolf Holocaust & Humanity Center exists to ensure the lessons of the Holocaust inspire action today. Located at Cincinnati's historic Union Terminal, HHC impacts more than 2.5 million people every year through digital and in-person events, museum tours, educational experiences, social media, and virtual content. From Australia to India, individuals from more than 25 countries and 30 states engage with our mission. For more information, visit www.holocaustandhumanity.org.