Written by Brianna Connock, Marketing & Outreach Associate
"I demand that everyone understand the vulnerability of humans. To help us remember that vulnerability, we must never forget the Shoah." – Holocaust survivor Roma Kaltman
Roma Kaltman was born in Lodz, Poland in 1926. She was the youngest daughter of Oskar and Perla Nowak. Her father was in the textile business with her grandfather, and the family lived a happy life. However, when the German Army occupied Lodz on September 1, 1939, life changed very rapidly for Roma and her family.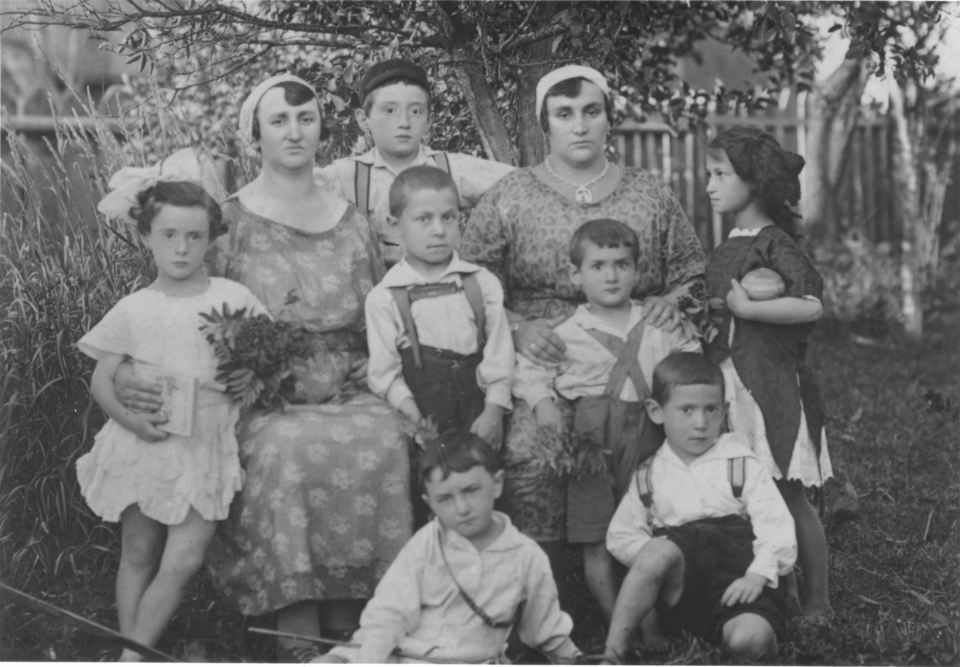 Their German neighbors began hanging Nazi flags, and Roma could no longer go to school. They were forced to wear yellow arm bands and do degrading work. In February of 1940 the Lodz Ghetto was established, and Roma and her family were forced to leave their home, a building owned by her grandfather, and move to the southern side of the city. Roma's mother died soon after they arrived in the ghetto leaving Roma, her three brothers and her sister, on their own.
The ghetto was a horrible place where disease and hunger were constant. Assigned to forced labor, Roma had several jobs in the ghetto, including working in an old person's home until the residents were deported. Roma met her future husband, Sam, in the ghetto, where they met in the courtyard of their apartment building to trade books with one another.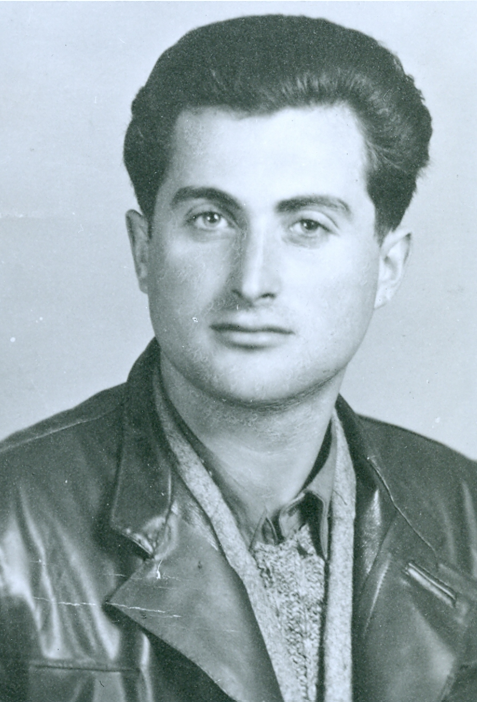 In August of 1944, Roma and her sister, Rozalia, were deported from Lodz and sent to Auschwitz. Sam and his family were also deported. In Auschwitz, they avoided being tattooed by constantly going to the end of the line. After a short time Roma and her sister were sent on to Stutthof concentration camp, while Sam was sent to Dachau.
After escaping a Nazi death march towards Puck, Poland, Roma and her sister found refuge in a nearby hospital. After liberation, Roma returned to Lodz, and then left for England where her sister had settled. Sam eventually discovered she had survived. They wrote letters to eachother and were eventually reunited and married in Germany. They immigrated to the United States in 1949, eventually settling in Cincinnati where they had two children. Today, the Roma and Sam Kaltman Teacher Fellowship, the Center's cohort of dedicated educators, is named in honor of the couple's life-long commitment to Holocaust education and remembrance.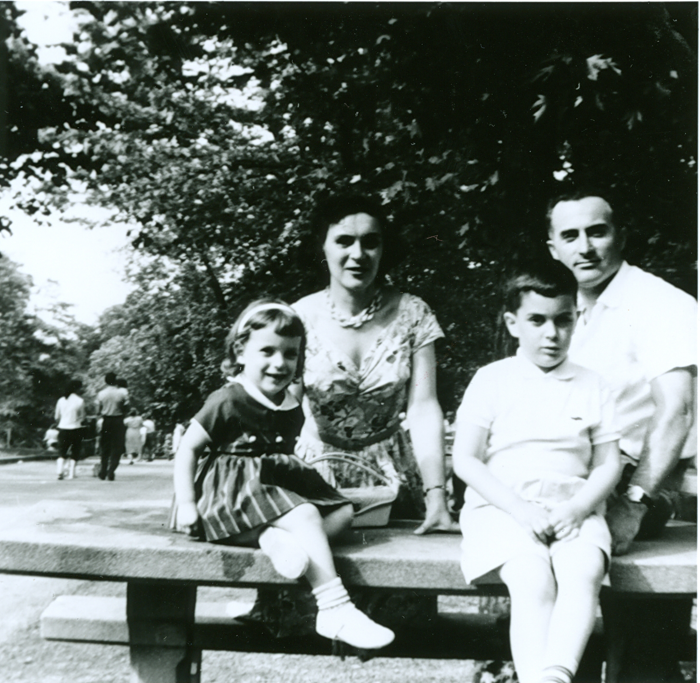 Several of the documents that Roma and Sam needed to immigrate to the U.S. are on display in our museum today.
Sam Kaltman's Vaccination Certificate
Vaccination certificate issues to Sam Kaltman. This is one of many documents Sam needed to immigrate to the United States. 
Roma and Sam Kaltman's Vaccination Tags
These vaccination tags were worn by Roma and Sam Kaltman on the ship they arrived to the United States on.
Police Affidavit for Roma Kaltman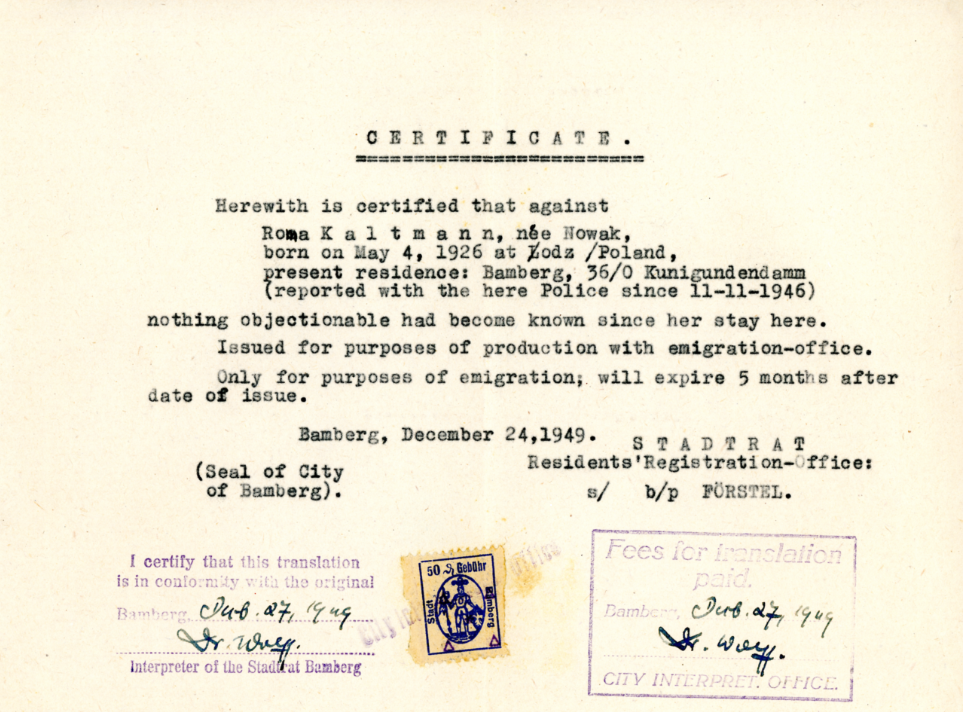 This affidavit was written by authorities in Bamberg, Germany on behalf of Roma Kaltman as she registered to immigrate to the U.S. It certifies that she was an upstanding resident of Bamberg.
Roma Kaltman's Citizenship Training Certificate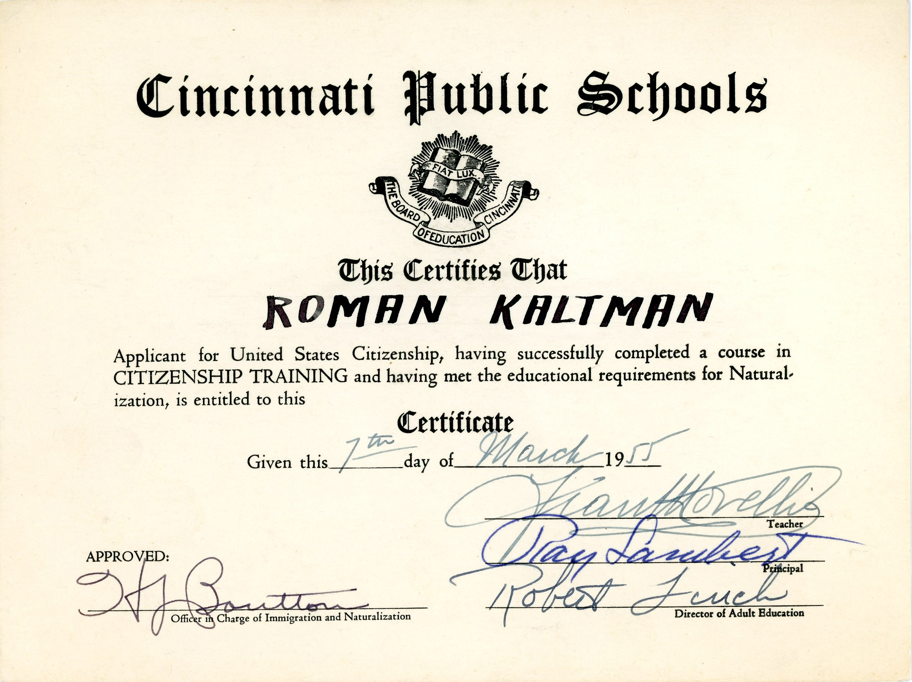 Roma was presented this certificate by Cincinnati Public Schools as she worked towards gaining United States citizenship. It certified that she completed her Citizenship Training course.
Sam Kaltman's Displaced Persons Camp Identification Card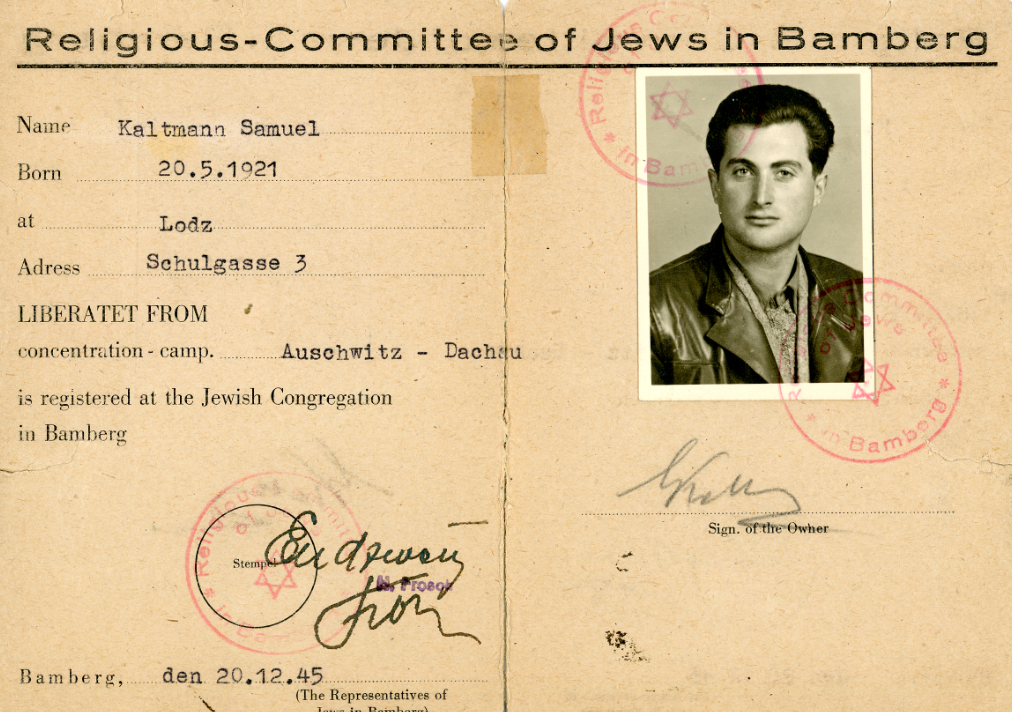 This identification card was granted to Sam after he was liberated and resided in a Displaced Persons camp. 
Letter of Recommendation for Roma Kaltman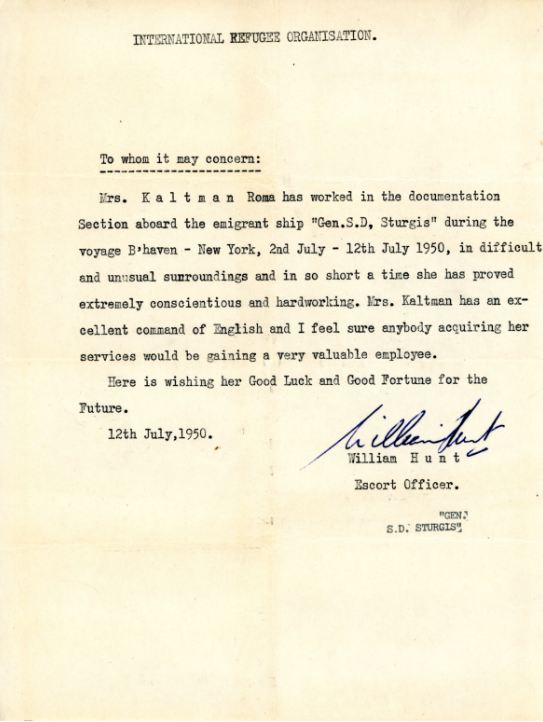 This letter was written by the Escort Officer on the ship that Roma traveled on from Germany to the U.S. It notes that she had "an excellent command of English" and that she would be a "very valuable employee."
You can view these artifacts in-person at the Nancy & David Wolf Holocaust & Humanity Center. Plan your visit to our award-winning musuem today!
# # #
ABOUT THE NANCY & DAVID WOLF HOLOCAUST & HUMANITY CENTER
The Nancy & David Wolf Holocaust & Humanity Center exists to ensure the lessons of the Holocaust inspire action today. Located at Cincinnati's historic Union Terminal, HHC impacts more than 2.5 million people every year through digital and in-person events, museum tours, educational experiences, social media, and virtual content. From Australia to India, individuals from more than 25 countries and 30 states engage with our mission. For more information, visit www.holocaustandhumanity.org.