The start of a new school year brings exciting new opportunities to engage with the Nancy & David Wolf Holocaust & Humanity Center and bring Holocaust education into your classrooms. Take advantage of our online curricular resources like Echoing Voices, book a field trip to bring your students to our award-winning museum, or become part of our cohort of teachers dedicated to Holocaust education.
Roma & Sam Kaltman Teacher Fellowship
Are you ready to join a community of educators committed to ensuring the lessons of the Holocaust inspire a new generation of upstanders? This fall, join the Nancy & David Wolf Holocaust & Humanity Center's prestigious cohort of teacher leaders and apply to the Roma & Sam Kaltman Teacher Fellowship. This new, comprehensive program offers a framework for teaching the Holocaust, includes specialized experiences, and builds community with Holocaust educators across the region.
This immersive learning opportunity will be held on Friday, November 10, Saturday, November 11, and Saturday, January 20 at historic Union Terminal.
The fellowship starts with a two-day-in-person experience in November, followed by asynchronous learning sessions on topics relevant to you and your classroom. It will conclude with an in-person experience in January.
As you learn and grow as part of a cohort of dedicated educators, you'll leave with the foundational knowledge and best practices to teach the Holocaust to today's students. Beyond opportunities to hear from Holocaust survivors, learn from Holocaust experts, and hone lesson plans, fellows will cultivate long-lasting professional relationships with special experiences including a Shabbat dinner at historic Union Terminal.
Apply today to begin your journey as a 2023 Roma & Sam Kaltman Fellow.
Engage with Us Today by Booking a Field Trip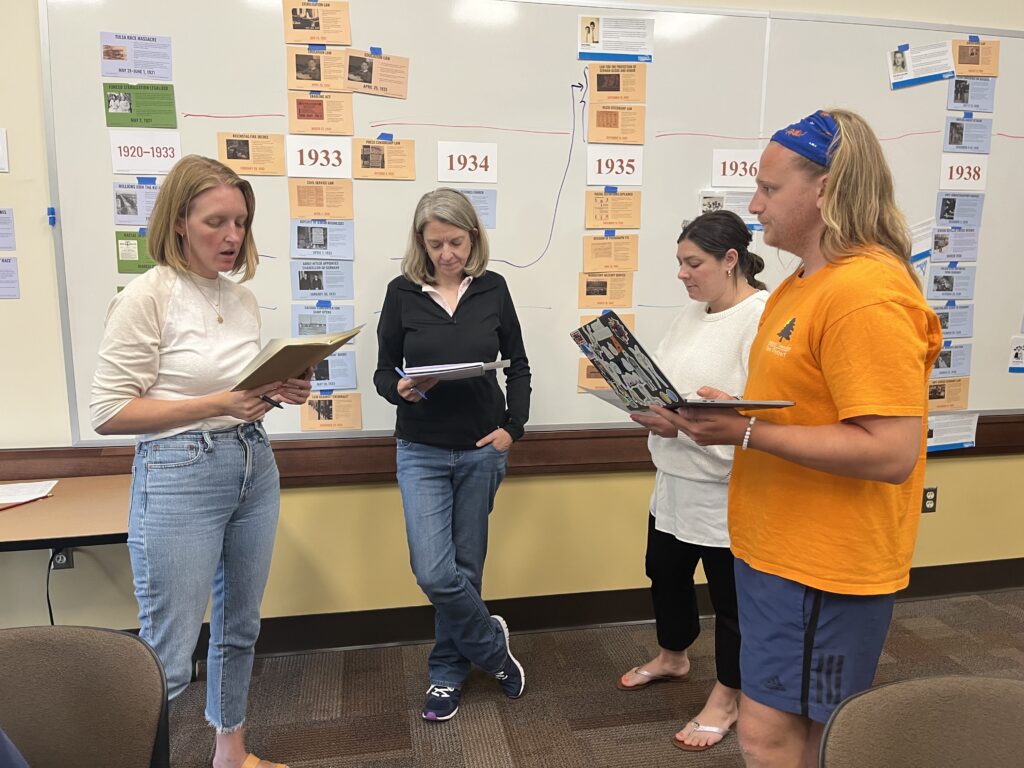 Explore the Nancy & David Wolf Holocaust & Humanity Center's interactive, award-winning museum through the voices of those who witnessed the history. Take a journey with local survivor stories featuring artifacts, photographs, quotes, and video testimony. In the Humanity Gallery, students learn about character strengths and leave feeling inspired to be upstanders in their communities. Book a field trip today!
Curricular Resource Highlight—Echoing Voices: Unpacking History
Immerse your students in the first-hand testimonies of local survivors and upstanders by bringing Echoing Voices: Unpacking History to your classroom. Echoing Voices allows students to connect with local Holocaust survivor stories through a unique, hands-on approach. Students listen to first-hand testimony and then unpack a suitcase of primary sources, photographs, and artifacts attributed to a local survivor, liberator, or upstander. Through this inquiry-based approach, students make meaningful connections to the past. Book your suitcase today!
For additional curricular resources, you can visit our Curricular Resources page.
# # #
ABOUT THE NANCY & DAVID WOLF HOLOCAUST & HUMANITY CENTER
The Nancy & David Wolf Holocaust & Humanity Center exists to ensure the lessons of the Holocaust inspire action today. Located at Cincinnati's historic Union Terminal, HHC impacts more than 2.5 million people every year through digital and in-person events, museum tours, educational experiences, social media, and virtual content. From Australia to India, individuals from more than 25 countries and 30 states engage with our mission. For more information, visit www.holocaustandhumanity.org.