Written by Brianna Connock, Marketing & Outreach Associate
Dominique Olbert, a child of two Jewish refugees from World War II, lost more than 80 family members during the Holocaust.
Driven to act because of her unique identity and family history, Olbert was awarded the Charles and Else Heiman Award for Kindness for her tireless work as president of the Kentucky Community Response Coalition (CRKCY), where she has developed a network of support services for refugees and immigrants.
The Upstander Awards honored and celebrated individuals in the community doing inspiring work as upstanders. Read more about the Cohen Family Upstander Weekend.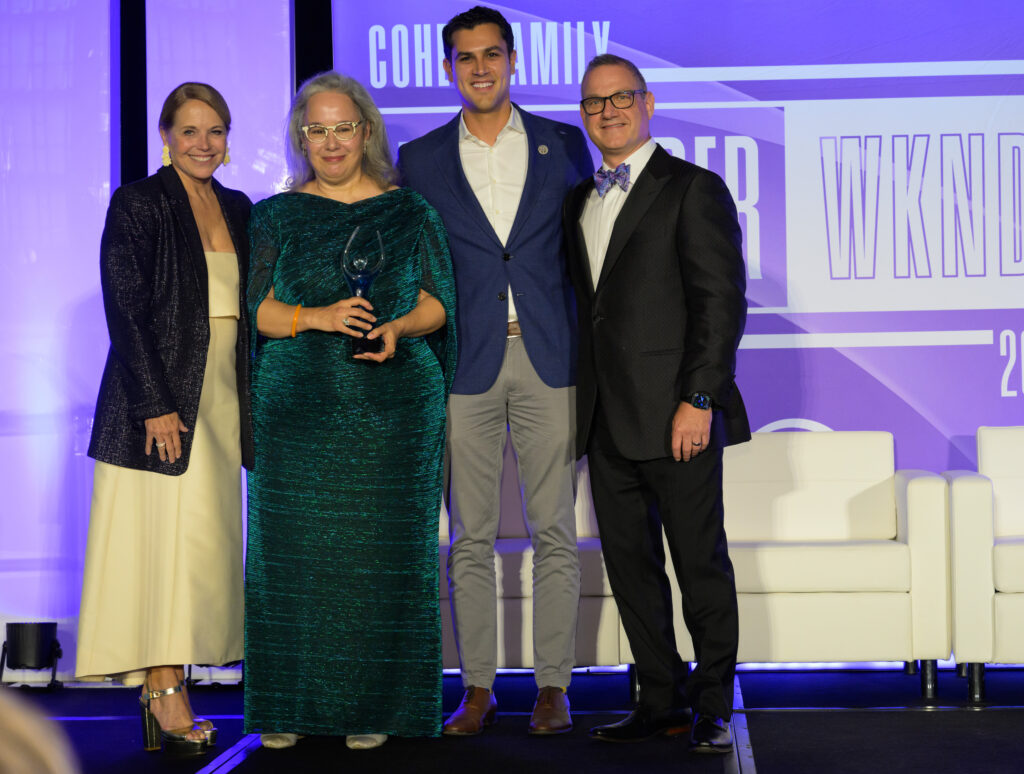 Much of her work is inspired by her family's story.
"I have a wall in a hallway of my house, which has black and white photos of many relatives who were killed during World War II," Olbert said. "I pass by this wall every day. The work I do with immigrants is very much my answer to this family history."
Olbert's parents made it to the United States with support from others. She now believes it is her turn to help others who may not be as fortunate. Along with her work with the CRKCY, she has raised hundreds of thousands of dollars in donations and grants to help support refugees and immigrants and serves as the vice president of ACLU-KY.
Olbert believes it's not about large actions, but just acting when you can.
"Do anything that is significant to you, no matter how small, but do something," Olbert said.
Read the full press release about the 2023 Upstander Awards here.
The Cohen Family Cincinnati Upstander Weekend is presented by Duke Energy, Fifth Third Private Bank, the Mayerson Family Foundation, WCPO, and Procter & Gamble.
# # #
ABOUT THE NANCY & DAVID WOLF HOLOCAUST & HUMANITY CENTER
The Nancy & David Wolf Holocaust & Humanity Center exists to ensure the lessons of the Holocaust inspire action today. Located at Cincinnati's historic Union Terminal, HHC impacts more than 2.5 million people every year through digital and in-person events, museum tours, educational experiences, social media, and virtual content. From Australia to India, individuals from more than 25 countries and 30 states engage with our mission. For more information, visit www.holocaustandhumanity.org.