Written by Brianna Connock, Marketing & Outreach Associate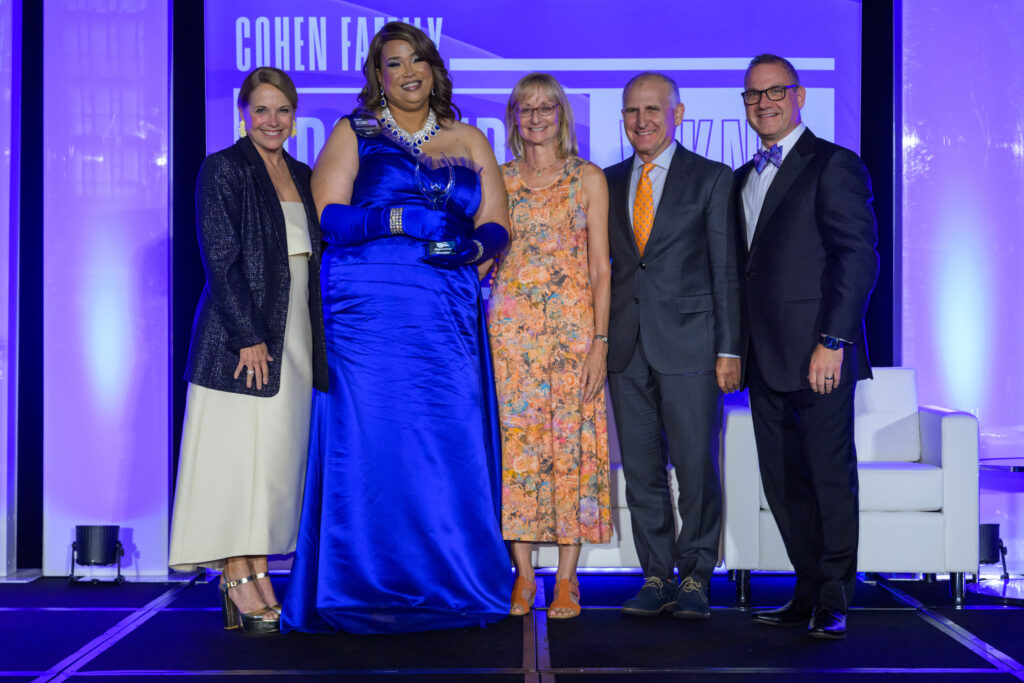 LeTecia Cunningham walks the streets of Cincinnati giving out sandwiches, hygiene products, and blankets to the homeless community. As an Emergency Shelter Case Manager, she has been one of the fiercest advocates for the homeless community for more than 20 years.  
Affectionately known as "Momma T,"  LeTecia Cunningham was awarded the Edith Carter Award for Love at the 2023 Upstander Awards for her love and dedication to helping those experiencing homelessness in Cincinnati.  The Upstander Awards honored and celebrated individuals in the community doing inspiring work as upstanders. Read more about the Cohen Family Upstander Weekend.
"Working with the homeless isn't a job for me, it's a passion," Cunningham said. "The need for help is growing within our community, and I'm dedicated to help." Cunningham is in part motivated by having experienced homelessness as a teen and young adult herself. She's inspired by those who are able to overcome the many barriers facing people who are homeless, since she knows firsthand how hard it can be. 
Cunningham's top strength is compassion, which allows her to see homeless people in a different light than many.  
"When some people see the homeless, they see dirty. I see someone who can be cleaned up," she said. "Compassion allows me to see the story that lays beyond."
Cunningham was nominated by several people experiencing homelessness that she personally helped, who used public computers at the library to submit their nomination for her as an upstander. "Momma T encourages us and gives us hugs. She finds ways to help us," they said.
Cunningham encourages people to take a moment and look around their own community to find those that need help.  
"Find the elderly person who needs help watering their lawn, the child who needs a new pair of shoes, or see who could benefit from a box of groceries," she said. "My work is simple: See a need, provide a solution. I encourage you to do the same."  
Read the full press release about the 2023 Upstander Awards here.
The Cohen Family Cincinnati Upstander Weekend is presented by Duke Energy, Fifth Third Private Bank, the Mayerson Family Foundation, WCPO, and Procter & Gamble. 
# # #
ABOUT THE NANCY & DAVID WOLF HOLOCAUST & HUMANITY CENTER
The Nancy & David Wolf Holocaust & Humanity Center exists to ensure the lessons of the Holocaust inspire action today. Located at Cincinnati's historic Union Terminal, HHC impacts more than 2.5 million people every year through digital and in-person events, museum tours, educational experiences, social media, and virtual content. From Australia to India, individuals from more than 25 countries and 30 states engage with our mission. For more information, visit www.holocaustandhumanity.org.