Written by Brianna Connock, Marketing & Outreach Associate
From an early age, Mason Bailey dreamed of learning to drive and operate heavy equipment, despite having cerebral palsy. He encountered nay-sayers who couldn't see past his disability but has continuously proven them wrong — including by earning his heavy equipment operator license.
"As a person born with a disability, I have been told 'no you can't, no you shouldn't, no you're not able to' more than anyone," Bailey said. "I am a very driven person, and I don't take no for an answer. In fact – the word 'no' makes me work harder to make it happen."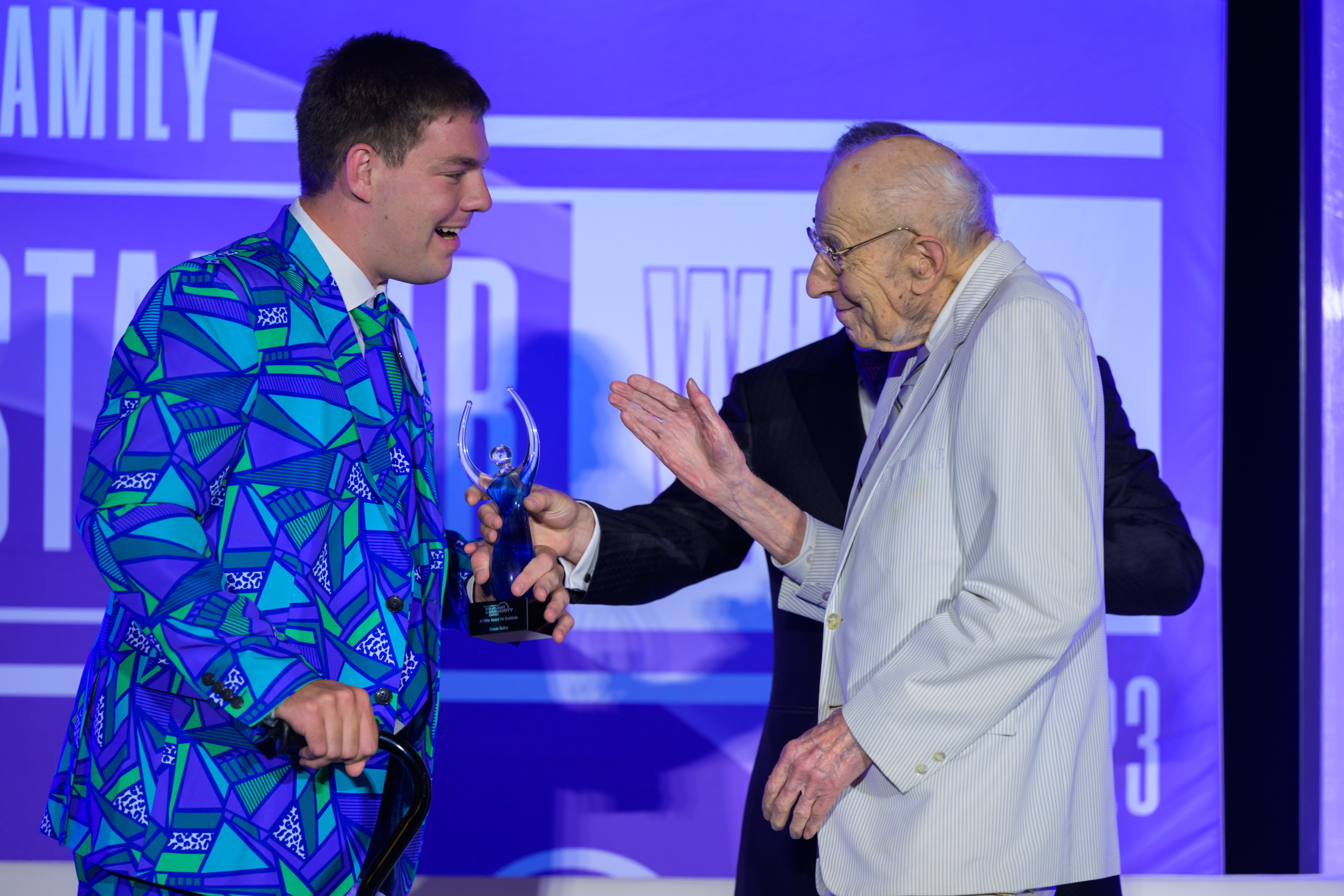 Bailey was awarded the Al Miller Award for Gratitude in celebration of his positive attitude and hard work at the 2023 Upstander Awards. The Upstander Awards honored and celebrated individuals in the community doing inspiring work as upstanders. Read more about the Cohen Family Upstander Weekend.
Bailey is passionate about making the world a more accessible and inclusive place. He was stumped when employers refused to hire him when he was fully qualified – labeling him a "liability."
"It drained me, trying to educate, explain and ask these employers for an opportunity," Bailey said. He decided to start his own seasonal lawncare business, but still feels those employers must do better and is continuing to think of ways he can inspire them to do so.
Despite all the challenges, when asked about his top character strength—Bailey said it is gratitude.
"I am grateful to work hard to make things happen. I am grateful for people who have helped and supported me through life, school, and challenges," he said. "I use my gratitude to be positive, to inspire others to try, to do better, and know that anything is possible. I don't feel sorry for myself because of my disability. Life is hard and can be challenging but we all have things to be grateful for, and we need to focus on that to make the world a better and brighter place."
Bailey encourages people to find time to practice gratitude. He says not to get discouraged — regardless of your circumstance. "If you can dream it, it's possible. Smile, laugh and love: these three things will always inspire those around you," Bailey said.
Read the full press release about the 2023 Upstander Awards here.
The Cohen Family Cincinnati Upstander Weekend is presented by Duke Energy, Fifth Third Private Bank, the Mayerson Family Foundation, WCPO, and Procter & Gamble.
# # #
ABOUT THE NANCY & DAVID WOLF HOLOCAUST & HUMANITY CENTER
The Nancy & David Wolf Holocaust & Humanity Center exists to ensure the lessons of the Holocaust inspire action today. Located at Cincinnati's historic Union Terminal, HHC impacts more than 2.5 million people every year through digital and in-person events, museum tours, educational experiences, social media, and virtual content. From Australia to India, individuals from more than 25 countries and 30 states engage with our mission. For more information, visit www.holocaustandhumanity.org.